Two Ways to Download Netflix Videos to USB Drive
Netflix allows you to download movies and episodes with the Netflix app, so you can watch them offline. However, when it comes to this situation like you want to download to your USB drive and carry the movies you download to a bigger screen, IT WON'T WORK!
Why? Because Netflix will encrypt every download file and make them can only be watched on the local device within the Netflix app. Therefore, when you carry the USB drive and connect it to another device, the files are no longer available. 
So the biggest problem here at first is to convert its format to a compatible one. In this case, it is essential to use a third-party tool to download videos from Netflix. Below are two recommended ways to download Netflix videos in common format that you can save them to USB drive.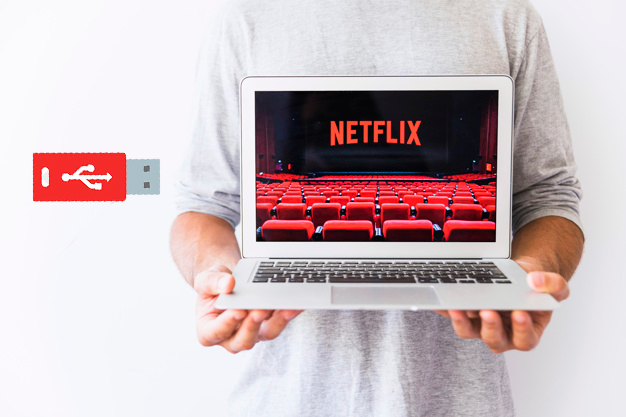 1. Record Netflix Videos with Bandicam and Save them to USB Drive
Bandicam is an easy-to-use free screen recording software that enables you to capture everything you want on your PC screen. Screen recording is kind of the most direct and easy method to capture your video and save it as a compatible file, and Bandicam can help you with that. Bandicam allows you to record MP4 and AVI format video with a 24 hours long recording term.
However, this behavior may be detected by Netflix and your account might have the risk of being suspended. Moreover, screen recording is very time costing. When you are recording the video, you can't do anything with your computer.
The following stpes will tell you how to donwload Netflix video with Bandicam.
1. Download/install Bandicam and start Bandicam before the recording target.
2. Go to the System settings of Edge or Chrome, and uncheck the "Use hardware acceleration when available" option.
3. Choose the "Rectangle on a screen" menu on Bandicam, and click the [ ● REC ] button.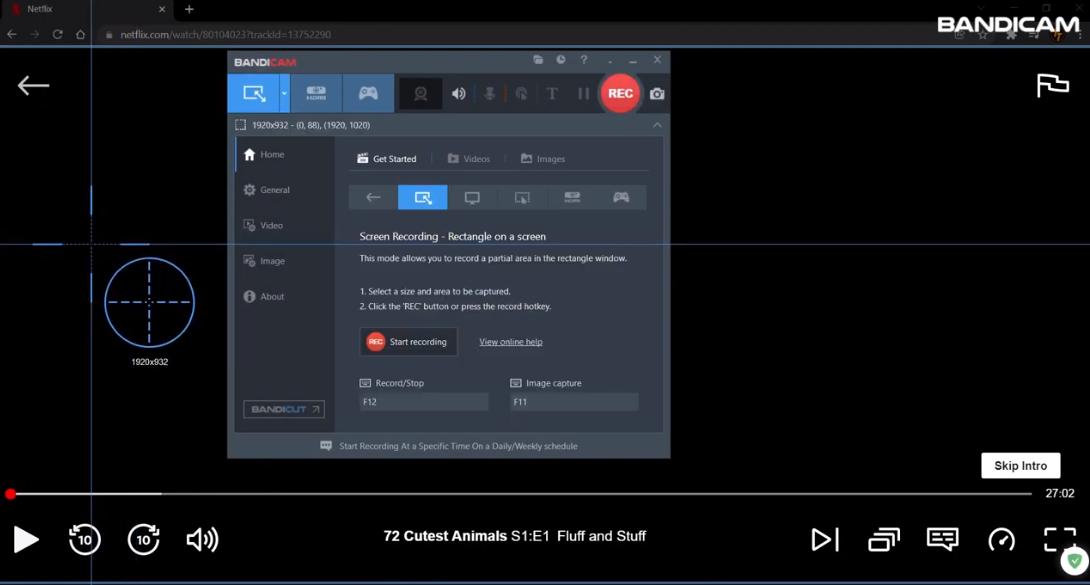 4. Go to "Home -> Video" to check the captured Netflix videos.
Pros:
Easy-to-use.
24 hours recording.
Record screen size customizable.
Cons:
One recording only for one video.
Only support Windows OS.
Not able to be paused in the middle process.
2. Download Netflix Videos to USB Drive with TunePat Netflix Video Downloader
TunePat Netflix Video Downloader is an easy-to-use downloader that is lite but powerful software. It allows you to download movies in the format of MP4 or MKV , which are compatible with most of the devices we are now using. The output path of TunePat Netflix Video Downloader can be customized, which means you can download movies directly to your USB drive. It also allows you to select the audio language and subtitle language, as well as video quality and audio quality with the option whether you want to save audio description or 5.1 audio track. With high download speed and stable video quality, TunePat shows a professional trait in video download software and offers a very pleasant user experience.
Before we start, please download and install TunePat Netflix Video Downloader on your computer. It is compatible with Windows and Mac operating systems. You can get it from the official website or click the button above.
Step 1 Launch TunePat Netflix Video Downloader and Log in to Your Netflix Account
After installing TunePat Netflix Video Downloader, launch it and log in to your Netflix account. TunePat Netflix Video Downloader will access Netflix directly through the built-in browser. You don't need to install the Netflix app or any other browser extensions.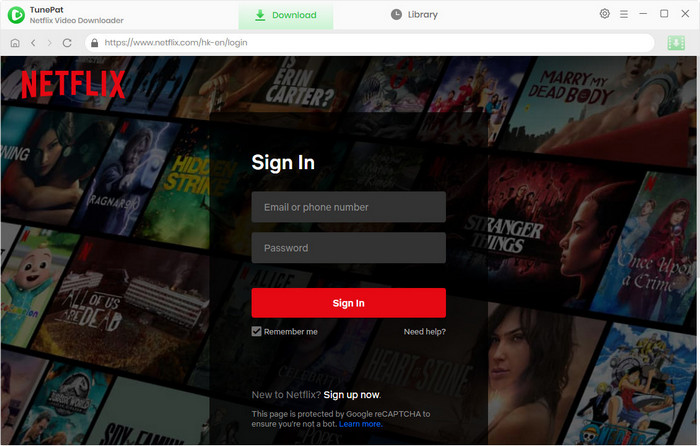 Step 2 Search for the Movie You Want to Download
Now you can search for the movie you want to download by entering its name or its url in the search box.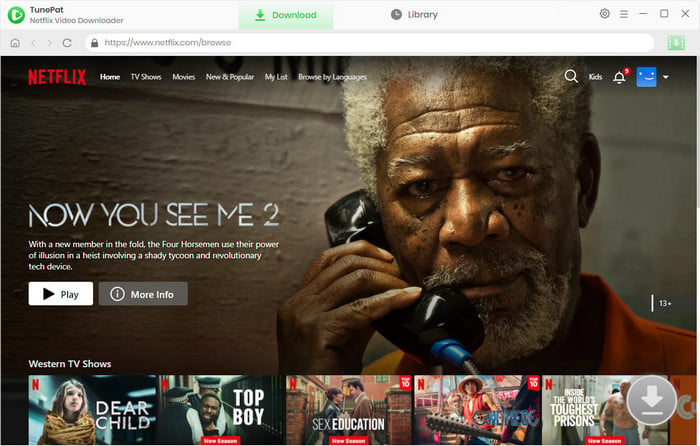 Step 3 Choose the Output Settings
Before downloading, you can customize the output settings according to your preferences. Click the "Settings" button on the upper right corner and you will see a pop-up window where you can choose the output quality, the output format, the audio track and subtitle language, and the output path. Here, when customizing the output path, enter the location of your USB drive. In this way, the movies will directly be saved to your USB drive after download finished.
In addition, there is an advanced download option that allows you to choose the specific video quality, audio, and subtitles for each video.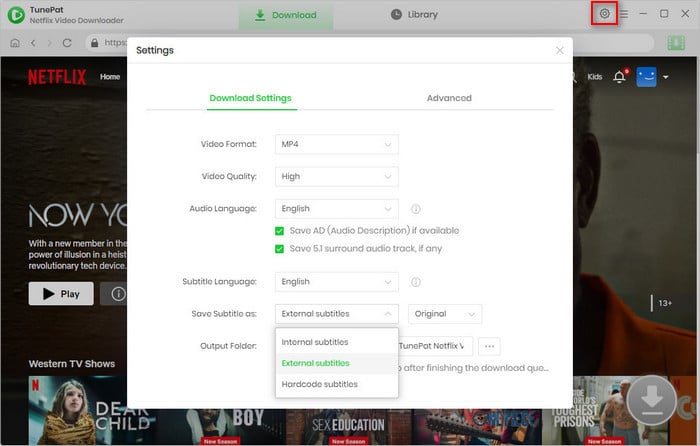 Step 4 Start Downloading the Movie
When everything is ready, click the "Download" button and TunePat Netflix Video Downloader will start downloading immediately. You can check the downloading progress on the pop-up list on the right side of the window. In this list, you can pause the ongoing process at any time and remove it if you don't want to download it anymore. You can also download multiple movies at once with TunePat Netflix Video Downloader.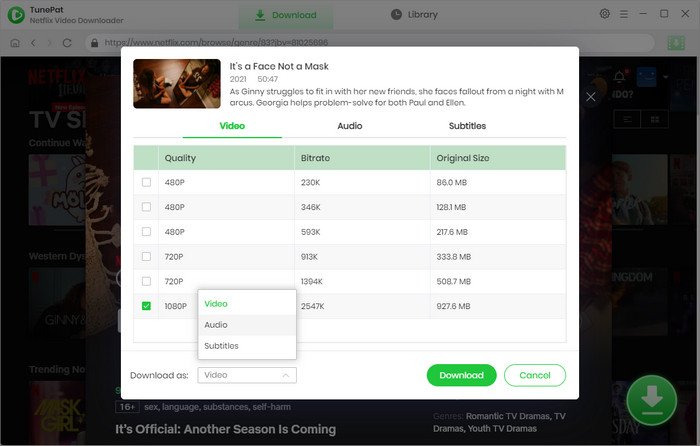 Pros:
Easy-to-use.
Fast download speed.
Support batch download.
Support at most 1080P download.
Directly download Netflix Videos to USB
Cons:
Not free(if download the entire video).
Only available on PC.
Conclusion
Downloading Netflix videos to your USB drive needs a pratical tool. Screen recording might be an easy way but TunePat gives you the best solution for Netflix video download to the USB drive. With TunePat Netflix Video Downloader, you can easily download Netflix movies to a USB drive and watch them offline anytime and anywhere. TunePat Netflix Video Downloader also supports downloading TV shows, documentaries, and original series from Netflix. TunePat Netflix Video Downloader could be a very helpful tool when handling video downloading and USB transferring issues.
Note: The free trial version of the TunePat Netflix Video Downloader has the same features as the full version, but it only enables you to download the first 5 minutes of each video. To unlock the limitation, you are suggested to purchase the full version.

We also Recommend: TunePat VideoGo All-In-One
Here is an all-in-one tool called TunePat VideoGo All-In-One to help you download videos from Netflix, Disney+, Prime Video, Hulu, YouTube, Facebook, and more, and save videos in MP4 or MKV format! Learn More >>