How to Watch Lucifer All Seasons Without Netflix?
Lucifer is a supernatural crime drama show that is based on the DC Comics character Lucifer Morningstar, who, bored and unhappy with his position as the Lord of Hell, abandons his throne and moves to Los Angeles to run a swanky nightclub called Lux. This fantasy series premiered on Fox in 2016 and ended in 2021 with six seasons. Now, Lucifer is available to stream on Netflix.
With a Netflix subscription, you can watch the thrilling story of Lucifer Morningstar on Netflix at your own convenience, no matter where you are. You are able to download Lucifer to watch later when you don't have internet access. Please keep in mind that the downloaded videos can only be played within the Netflix app during your subscription period. If you are looking for how to watch Lucifer without Netflix, this article provides a way to download the series from Netflix, allowing you to watch it on any device without limits.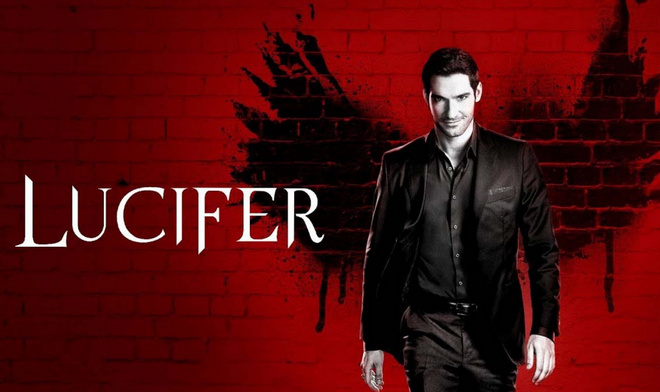 Tool Requirement: TunePat Netflix Video Downloader
To watch Netflix videos on other devices instead of the Netflix app, it is necessary to convert Netflix videos to a compatible format. TunePat Netflix Video Downloader has the ability to download movies and TV shows as MP4 or MKV files so you can play them without the Netflix app. With the assistance of TunePat, you can not only batch download all seasons of Lucifer from Netflix but also save videos in 1080p with multiple languages of audio and subtitles kept. All downloaded videos are directly saved on your computer and can be played on any media player. Additionally, after downloading, you can play your downloads offline at any time, whether you cancel the Netflix subscription or not.
How to Download Lucifer All Seasons with TunePat Netflix Video Downloader?
In the beginning, please download and install the latest version of TunePat Netflix Video Downloader on your computer. This program works on Windows and Mac computers, please download the correct version by clicking the above Download button.
Step 1 Log in to Netflix
Open the program and type a word into the search bar, and then hit "Enter" to open the login window. Now you need to log in with your Netflix account.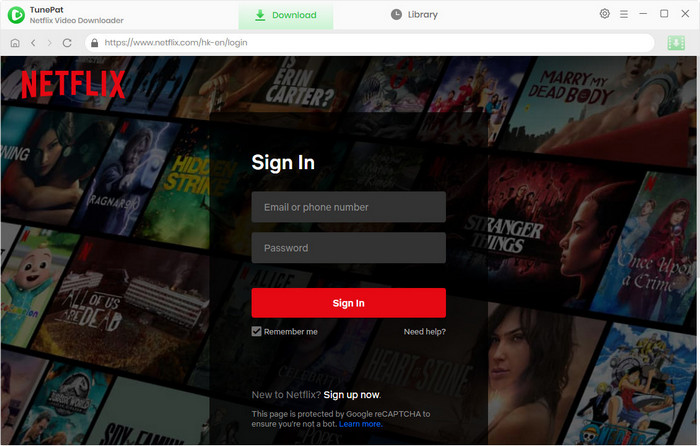 Step 2 Customize the Output Settings
Click the "Settings" icon on the top right corner and choose the general settings for the videos you are going to download. Here you can choose the video quality, video format, and more.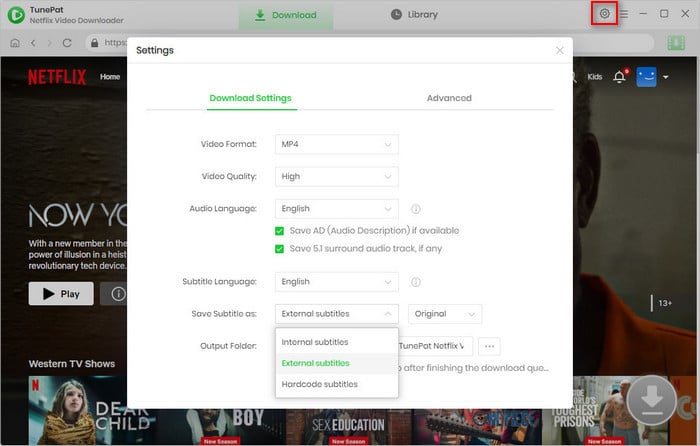 Step 3 Search Lucifer on Netflix
After logging in, re-enter the video information to search Lucifer from Netflix. Both the title's name or URL can be used to find the video.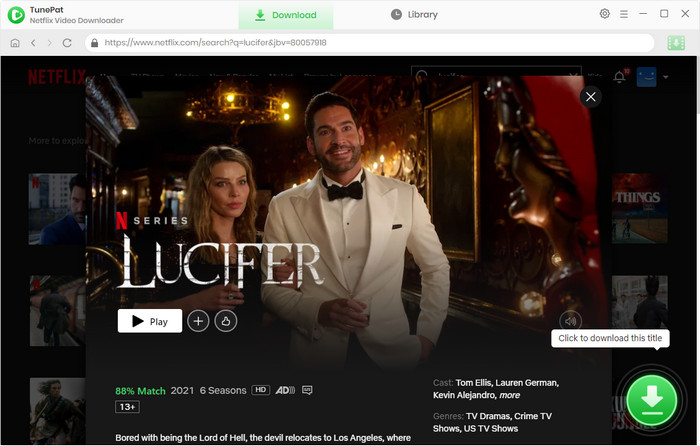 Step 4 Choose the Advanced Download Settings
If you want to choose the more detailed parameters like video quality, the language of audio tracks and subtitles for individual movies or TV series, you can choose them in the advanced download settings. For TV shows, click the "Download" icon to choose seasons and episodes, and then click the "Advanced Download" button on the bottom left corner. For movies, just click the "Advanced" icon next to the "Download" icon.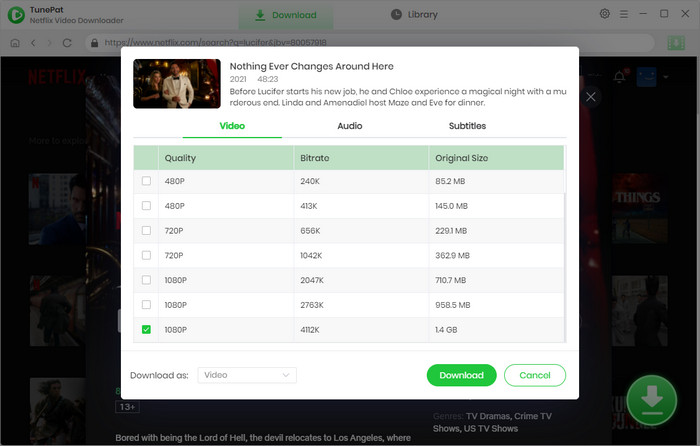 Step 5 Start Downloading Lucifer from Netflix
After selecting the settings, click the "Download" button to make the program downloads your selected videos. All videos will be shown on the right pane and downloaded one by one.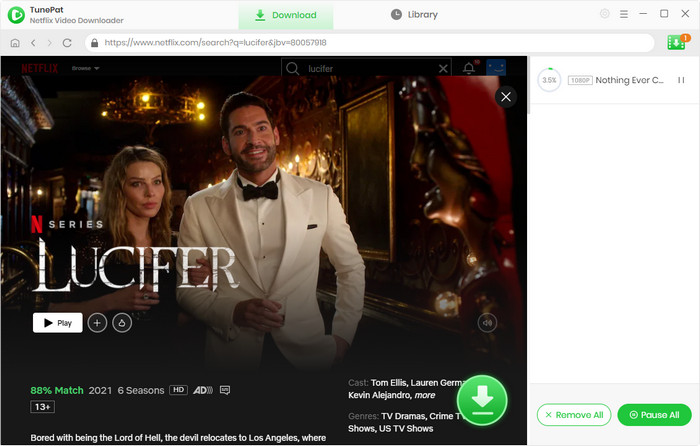 Once the download is complete, you can check the download history in the "Library" tab. And you can find the downloaded videos in the local folder by clicking the "Folder" icon.
Now you have saved Lucifer all seasons on your computer and are able to watch them offline on any media player or copy them to other devices without limits. And you can play your downloads at any time even if you cancel the Netflix subscription plan.
Are There Other Ways to Watch Lucifer Without Netflix?
For Netflix subscribers, it is easy and convenient to stream Lucifer all episodes online or offline during the subscription period. Additionally, the show is available for purchase or rent on various sites including iTunes, Google Play, Amazon Instant Video, and Vudu. While there may be additional costs associated with these options, they provide an opportunity for viewers to enjoy the devilishly entertaining adventures of Lucifer Morningstar without needing a paid Netflix subscription.
Conclusion
Lucifer is now available to stream on Netflix, but it is expected to leave Netflix in the future, making room for other new movies and TV shows. In order to save Lucifer before it is removed from Netflix or play it without Netflix, we recommend you download the show with TunePat Netflix Video Downloader. This program can help you save the show on your computer in MP4 or MKV format, allowing you to watch them offline on any device without using the Netflix app. Fans of Lucifer who do not have Netflix can still catch up on the popular TV show by exploring alternative viewing options. For instance, it is a good choice to purchase or rent episodes from digital stores such as Amazon Prime Video, iTunes, and Google Play.
Note: The free trial version of the TunePat Netflix Video Downloader has the same features as the full version, but it only enables you to download the first 5 minutes of each video. To unlock the limitation, you are suggested to purchase the full version.

We also Recommend: TunePat VideoGo All-In-One
Here is an all-in-one tool called TunePat VideoGo All-In-One to help you download videos from Netflix, Disney+, Prime Video, Hulu, YouTube, Facebook, and more, and save videos in MP4 or MKV format! Learn More >>