How to Transfer Movies from Netflix to USB Drive?
Netflix subscribers can access to a vast library of movies and shows available for streaming, but what if you don't have a reliable or high bandwidth Internet connection? What if you're stuck on a plane for a few hours that doesn't have WiFi services set up? Thankfully, Netflix allows you to download some movies and TV shows to your devices for offline playback. But what if you don't have enough free spaces to store a lot of videos? Is there a way to download content from Netflix to store on your USB drive, SD card, or elsewhere as you want?
Sure, you can use a third-party software to download streaming videos from Netflix and you can watch your entertainment on your terms, even in places where your cherished Netflix account is inaccessible. In this article, we're going to show you a different way to download movies and shows from Netflix, allowing you to re-watch as many times as you want without wasting data.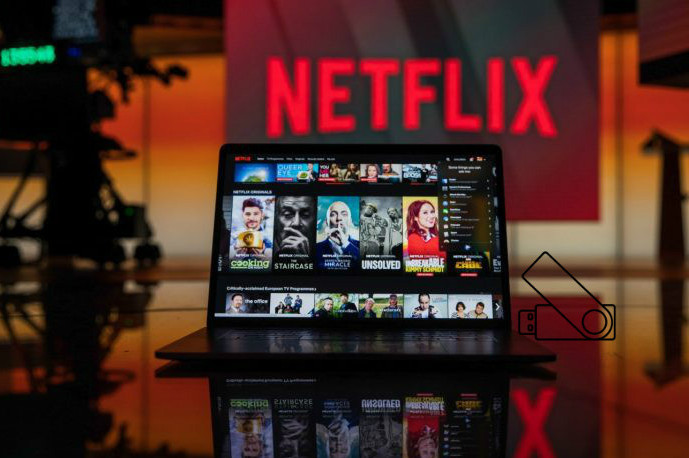 Tutorial: How to Back Up Netflix Movies to a USB drive, SD card, or Elsewhere
When it comes to downloading videos, we always want to have something efficient, reliable, as well as easy to use. Well, for those users who want to have a simple yet effective way of downloading videos, TunePat Netflix Video Downloader is the best option.
TunePat Netflix Video Downloader is the most unique software that does exactly what the title implies. It is a fast and lightweight app with built-in search functionality that will make it easy for you to find the Netflix movies or TV shows you intend to download. This tool is very straightforward and gives you a hassle-free experience because of how effortless it is to use. Additionally, it also provides a decent quality output, while keeping multiple audio tracks and subtitles for Netflix Standard and Premium users.
Step 1 Launch TunePat and Log Into your Netflix account
To get started, run TunePat Netflix Video Downloader and log in to the Netflix account by entering your Email and password. (Note: TunePat will securely store your account information.)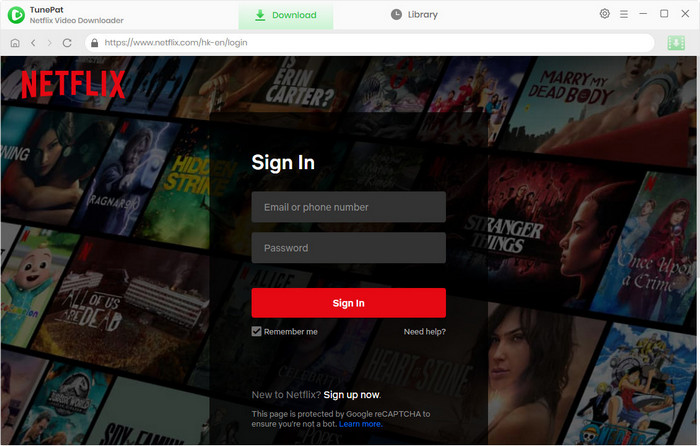 Step 2Choose Your Download Quality
To choose, select the "Setting" icon at the upper right corner. A setting window would pop up, under "Downloads Settings" tab, click or tap Video Quality,  and select output video quality as High, Media, or Low. Here you can change the output directory as required.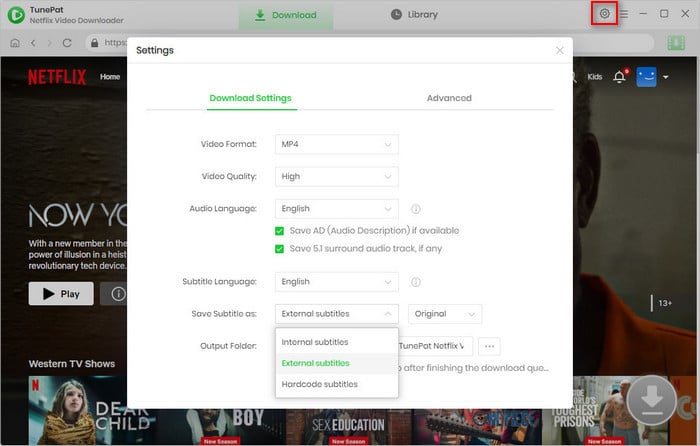 Step 3 Add Netflix Videos
Now, you can start the process by copying the URL link of the video and then pasting it on the downloader window, or directly enter the name of a movie or TV show in the search bar. Then simply tap the search icon (a magnifying glass) and TunePat program will list all the related videos.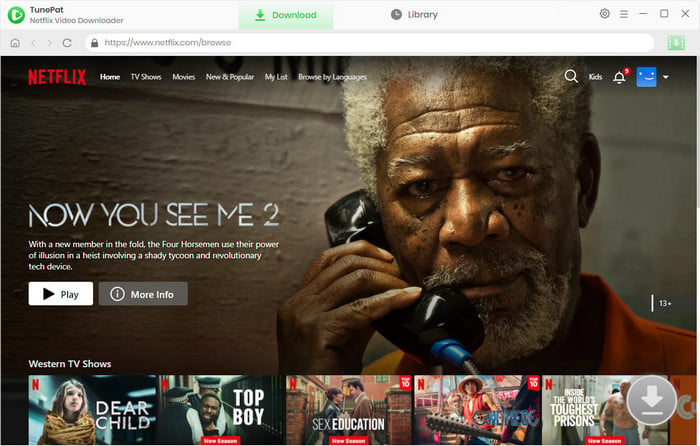 Step 4 Start Downloading Netflix Movies
To begin downloading a title, select the "Download" icon affixed to the show or movie you want to watch (looks like an arrow). Then wait for it to finish downloading. If you pause the download, you can resume it.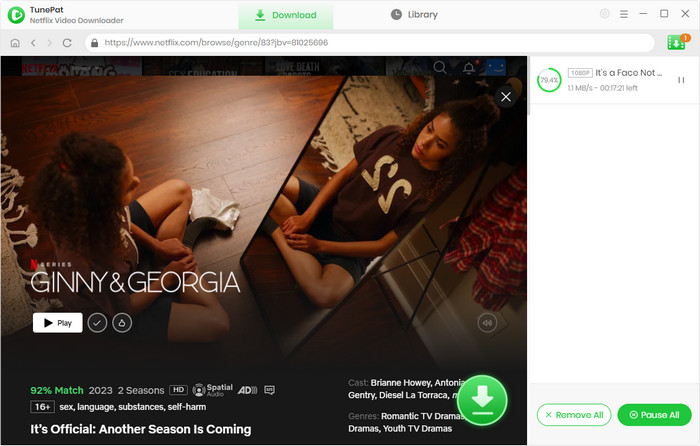 Step 5Check Downloaded History
After your shows or movies have downloaded, you'll find them in the "Library" section of the app.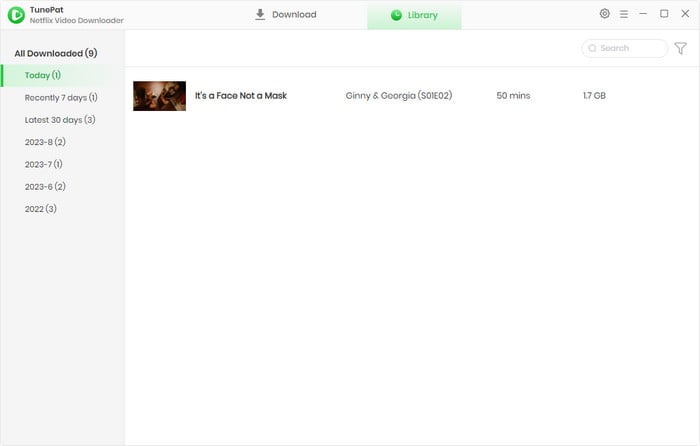 Now, you can move these video files to an on-the-go USB flash drive, an SD card or elsewhere as you want.
Conclusion
All in all, you can use TunePat video downloader whenever you find a good video, movie, or show that you wish to re-watch later. It saves the file as MP4/MKV format in your local computer to re-watch later when the internet is slow or if you don't want to stream it in Netflix App only, or for another reason. Overall, it's 100% worth trying because you will enjoy many hours of fun videos, movies, and shows offline whenever you like.
Note: The free trial version of the TunePat Netflix Video Downloader has the same features as the full version, but it only enables you to download the first 5 minutes of each video. To unlock the limitation, you are suggested to purchase the full version.

We also Recommend: TunePat VideoGo All-In-One
Here is an all-in-one tool called TunePat VideoGo All-In-One to help you download videos from Netflix, Disney+, Prime Video, Hulu, YouTube, Facebook, and more, and save videos in MP4 or MKV format! Learn More >>